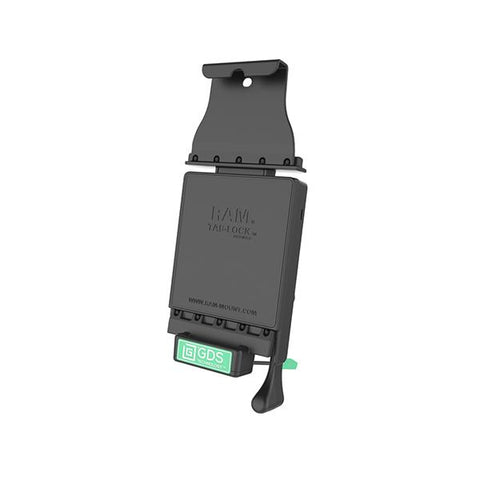 GDS® Locking Vehicle Dock for Apple iPad Pro 10.5 (RAM-GDS-DOCKL-V2-AP16U)
The RAM® Locking Vehicle Dock with GDS Technology™ is a spring loaded, quick release cradle with a keyed lock that offers a secure fit with easy access to the mounted tablet. This docking station is compatible with the Apple iPad Pro 10.5 with IntelliSkin®.
The integrated GDS Technology platform enables data and charging capabilities to the mounted tablet. Without the need to remove the IntelliSkin from the device, you can quickly and efficiently mount the device in the vehicle dock and keep the device charged.
Specs & Features
Compatible Devices: Apple iPad Pro 10.5 with IntelliSkin
GDS Technology™ offers a universal charging platform for any device wrapped in IntelliSkin®
Keyed lock for theft deterrence
Modular design makes upgrading to a new tablet simple and cost effective
Easy, quick release of your tablet for on-the-go applications
Versatility of holder allows for attachment to many RAM mounting solutions
Lifetime warranty, 3 year warranty on electronics
Made in U.S.A.
Specifications: Max power 5V-12V @ 2A*
Note: mUSB products supporting USB 2.0/3.0 will have a max current of 1.5A
---
We Also Recommend